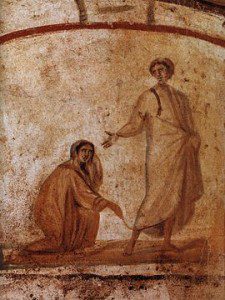 Mission: The Catholic Church reaches out to the divorced through her ministry. One of the ways the Church offers to help people achieve healing and closure is through a declaration of nullity or "annulment." A Church tribunal (a Catholic Church court) declares that a marriage thought to be valid according to Church law actually fell short of at least one of the essential elements required for a binding union.
What do we do: Provide assistance in submitting a petition to the tribunal for a declaration of nullity.
Divorce is unique among life experiences. Divorce is a process not an event. The ending of any marriage is a traumatic experience. The adjustment which follows can be either positive or negative; it is always difficult.
A valid Catholic marriage results from five elements: (1) the spouses are free to marry; (2) they freely exchange their consent; (3) in consenting to marry, they have the intention to marry for life, to be faithful to one another and be open to children; (4) they intend the good of each other; and (5) their consent is given in the presence of two witnesses and before a properly authorized Church minister.
The Church presumes that every marriage between a man and a woman who are free to marry, (Catholic, Protestant, Jewish, Non-Believer, etc.) to be a valid marriage until the opposite is proven. Therefore, unless the ex-spouse has died, anyone who is divorced, Catholic or non-Catholic, needs to obtain a Catholic declaration of nullity or dissolution before re-marrying. The tribunal process seeks to determine if something essential was missing from the couple's relationship from the moment of consent, that is, the time of the wedding. If so, then the Church can declare that a valid marriage was never actually brought about on the wedding day.
Membership: Open to any parishioner interested in learning about the procedures for submitting a petition to the tribunal for a declaration of nullity of marriage.
Meetings: Contact Deacon Ed LaRose to set up a personal appointment. All inquiries are confidential.
Point of Contact: Deacon Ed LaRose, email deaconed@sainttims.org
Resources: To obtain additional helpful information about the tribunal and the procedure to submit a petition for a declaration of nullity, click on links below to download documents containing explanations.