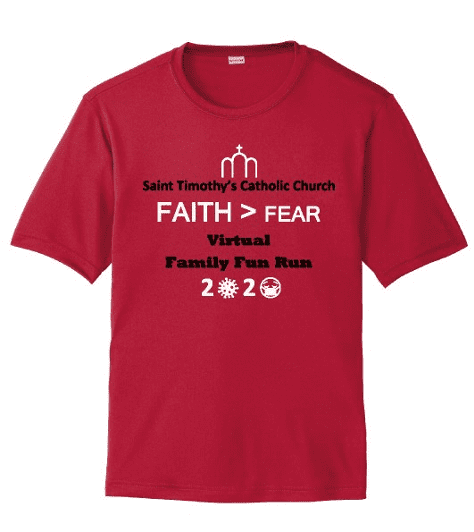 "Faith is not the absence of fear, but the conviction that God is greater than our fears.  The greatest danger of fear is that it can also displace faith, causing us to lose sight of God," Dr. John Koessler.  Both sides of our Virtual Family Fun Run/Walk t-shirts prominently display this message.
FOR PARTICIPANTS WHO REGISTERED BEFORE 9/30/2020
• Pick-up your T-Shirts: If you haven't already done so, please pick up your t-shirts at the Parish Office during office hours.
• Conduct your Family One Mile Run/Walk. Gather yourself and/or your family and go for a one-mile run/walk, hopefully wearing your t-shirts to share our "Faith is greater than fear" message. Pick a date/time that is convenient for you. Parish clergy put together a "Virtual Start" for you to play when you start your run/walk. Please click here when you plan to start!
Even if you didn't order one of our specially-designed shirts, no problem, still join your fellow parishioners for a virtual run/walk too!
• Send us your Family photo by November 8th. Take a family photo (with your t-shirts, if you have them on), then email your family's photos from your event to contact@sainttims.org.
We will assemble the individual photos and create a collage to "bring us together" for this special event. We may extend the time to submit photos until mid-November, but we'll let you know when it's ready!
If you have any questions about this event, please contact the Event Co-Chairmen:  Roger Caruso, 813-767-0071, mrmrcaruso@msn.com or Deacon Glenn Smith,  813-968-1077, deaconsmith@sainttims.org.